The Story's the Thing: The Knife of Never Letting Go
I'm not usually one for reading sci-fi (and I tend to consider any novel set on a completely different planet sci-fi), but I ended up picking up The Knife of Never Letting Go by Patrick Ness a few years ago because it sounded pretty dystopian as well (I love me some dystopian).  But, to be honest, at first I wasn't 100% sure about how much I'd like it.  Truth is, sometimes I surprise myself…
I ended up loving it, and its two companions—The Ask and the Answer and Monsters of Men—far more than I anticipated, to the point that the three books are on my shelf now and I'm seriously considering re-reading them soon.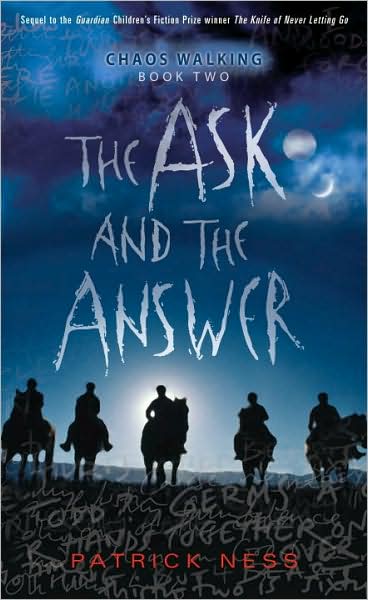 The Knife of Never Letting Go is set in a town on a world where a terrible disease supposedly killed all the women and caused all the men to be able to hear each other's thoughts constantly.  The story Todd, the narrator, has always heard is that this disease was released by the native inhabitants of the world.
But one day, Todd notices a strange patch of silence and realizes that he cannot hear the thoughts of a girl named Viola, who has recently arrived on the world.  His adoptive parents, who had been planning for Todd's escape for years, force him to leave and on his journey with Viola, Todd learns that much of his life has been a lie and that his hometown has a darker history than he would ever have believed.
The trilogy follows the pair as they learn the truth and start to fight back against the injustice of all the lies.  It's definitely not what one would consider a "cheery" series (but then, what dystopian-type-novel is?), but it's certainly a page-turner and really makes you think.
I really found myself getting into this story the further I read.  The narration styles are particularly interesting to me—the way Todd speaks and narrates versus the way Viola does—and the story itself is incredibly engaging.  It deals with a lot of issues that we have in the world today—sexism, violence, prejudice, racism, and war are just a few of the issues I can think of off the top of my head.  I'd really recommend this trilogy to anyone who's looking for a pretty intense read.  Be prepared to never be entirely sure what's going to happen next.