What's a Swing State?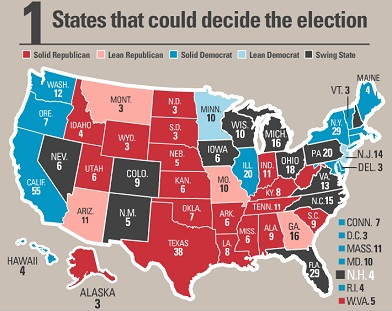 It has recently come to my attention that it is extraordinary (for some people) to see a presidential campaign commercial between every Olympic event or after each segment of the morning news. That's not normal? You didn't see Hilary Clinton's family photos at Lake Winola? What about the one where Obama is hunting? Not even the infamous "Joe the Plumber" ad? Ahhh… I forgot. I live in a swing state.
Growing up in Scranton, Pennsylvania is not always as interesting as the Office makes it seem. If you have ever driven through PA, you know there are a lot of farms and only some "cities" every once and a while. As my high school American History teacher said, "Pennsylvania has Pittsburgh and Philadelphia… and then Alabama in between". However, Scranton is one of those Northeastern points with enough people to impact the overall voting status of the state. Every. Vote. Counts. And the presidential candidates know it, otherwise they wouldn't be parading through the countryside every four years.
When my mom was growing up, JFK flew into the Avoca Airport. Since I have been paying attention, Biden, Hilary, Obama, and McCain have all come to high schools, town meetings, and public ralleys within this small town just to talk to voters. As a high school senior, with my first election in 2008, it was an incredibly empowering time. I registered to vote in my Social Justice class, went to campaign talks, and saw the candidates in person. Turning 18 years old really was a life milestone – I finally had a real-life power. To vote.
What about you? Have you registered??
Quick caveat: some voting laws have recently changed in Pennsylvania. They are now requiring each voter to have a photo ID. This is sparking a new wave of controversy since some religious groups cannot be photographed and college students do not have expirations on their student IDs. Without photo identification, a voter can only cast a provisional ballot which may not be deemed valid. We want to make Every. Vote. Count.
What to do before election day??
1.) Make sure you are eligible to vote:
• You MUST be a citizen of the United States for at least one month before the next primary, special, municipal, or general election.
• You MUST be a resident of Pennsylvania and the election district in which you want to register and vote for at least 30 days before the next primary, special, municipal, or general election.
• You MUST be at least 18 years of age on or before the day of the next primary, special, municipal, or general election.
2.) Register to Vote

3.) Get a photo ID – drivers' license, passport, student/military ID, employee ID, or another acceptable option. Make sure they are NOT expired.
4.) For out of state Students or Residents: Apply for a Civilian Absentee Ballot BY OCTOBER 30th here!
5.) Do Your Research: Know Who Is Running
- Too many times students only know the platforms of the presidential candidates. The Governor, House Representatives, Senators, State Senators, local mayor, and local government have an incredible amount of power enacting laws. Remember "I'm Just a Bill" by Schoolhouse Rock? Well, they had it right. These other candidates represent your community's views. Make sure you are represented! You can even bring in a list of candidates and a list of key issues/proposals on the ballot.
6.) Find the closest registered place to vote near you
Your vote matters for EVERY state, so make sure it counts. Visit your state's voting page and register to vote, get up to date on state procedures, and prepare yourself to make a big difference in the world.
And, most importantly, (W)ROCK THE VOTE!