One Day…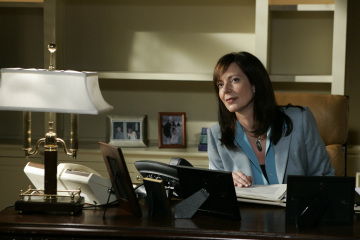 "One day, I'm gonna meet the President."
"One day, I'm gonna argue with the President about something I want for the world."
"One day, I'm gonna work for the President."
"One day, I'm gonna BE the President."
Okay, okay. So my middle school students only come out with those lines occasionally. And mostly it sounds like "One day, I finna meet Barack, Ms. Bernstein. You KNOW I's gonna do it."
But they say it….and they believe it. And I believe it.
I have to. I told them it was true in the first place.
If you'd told me two years ago that my low-income, high needs 6th, 7th, and 8th graders could make a difference in the world, I would have laughed. We're talking about kids who read below grade level, struggle with basic multiplication, and rarely have the same teachers for more than 6 months at a time. As a first-year, female teacher, there was no way I was going to get these kids on grade level, nonetheless at a position where we could confidently say together "One day, you are going to argue with the President of the United States. And you are going to WIN."
Enter Claudia Jean Cregg, fictional Press Security for fictional President Josiah Bartlett in the TV show The West Wing, and real savior of my sanity and passion for teaching. C.J. Cregg is the kind of person who stands up in front of reporters (ahem. reportersharks) every day, and handles them with grace, poise, sarcasm, and a sincere grasp of her own power. She advocates for what she believes in front of the most powerful people in the world. She is, above all, compassionate. She knows what she wants. She knows what she needs.
And she tells some really good jokes.
It was these jokes that drew me back to The West Wing in the first place. As a (pretty miserable) social studies teacher, the last thing I wanted to do was come home and watch political wittiness from people who loved their jobs and changed the world. But CJ's jokes….something to laugh at…that drew me into the world.
So here I am, a 20-something-dont-ask-me-how-old-I-am teacher, standing in front of 33 students (ahem. studentsharks), and we're SUPPOSED to be learning about the Constitution…but let's be real, no one's really learning, because between the talking and the shouting and furniture throwing and the fire alarm going off, it's pretty much all I can do not to burst into tears. (which, we should pause to note, has happened more than once by this time in the year. I mean, middle schoolers are SCARY).
And so I think of the most poised person I know. Ms. C.J. Cregg, Tall Lady extraordinaire. The person, who (coincidentally) knows more about the Constitution than I do, and therefore does not get ruffled when a too-old-too-tall-too-far-behind student shouts out "why do we need to LEARN this." She calmly (and only somewhat sarcastically) explains that Americans vote, votes elect decision-makers, and decision-makers make decisions.
"What if I want to make the decisions?" he asks.
"Well," I say. "Stay in my class, and we'll learn how to do it."
My definition of what it means to be a strong, successful woman changed then. It's not just about me, or what I want. It's about what I am capable of doing for or with others. It's about having enough confidence in myself to pass that on to the next group of decision-makers.
CJ Cregg, although not elected, is a decision-maker. She advocates for people, ideas, and the basic rights she wants in her workplace. She is a high-ranking woman in a sea of higher-ranking men, and her gender is the LAST thing you think about when you listen to her speak. CJ Cregg can handle a crisis like it happened yesterday and get you thinking about things that won't happen until tomorrow.
She's the kind of teacher I want to be. She's the kind of teacher I want my students to have.
And so…students, yeah. You can argue with the President one day, and win. You can work for the President. You can BE the President.
We're gonna learn how in this class.